Looking for an easy to use and reliable solution for PDF workflow software? If you need software to combine, merge, sort, collate and organize PDF files we can help.
What is Workflow Software?
Workflow software (or workflow management system) of any kind is basically the coordination of tasks related to getting a larger project completed. Workflow software takes multiple tasks and allows you to manage and solve said tasks from within one piece of software or user interface. There are three steps to a workflow. First is the input. Input is the things you must contribute to start whatever task you are trying to accomplish. Second is the transformation. The Transformation is what happens within the software or what it does to your input. Third is the output. This is the result of the transformation or task and the desired result of what you need.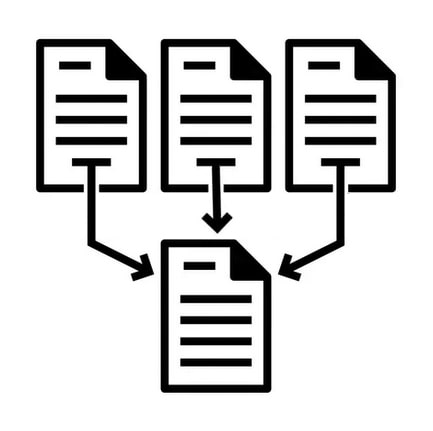 For a simple example of a PDF workflow software let's say you have 100 PDF files that need to be sorted by file name and merged together. File Splice can accomplish that simple workflow scenario for even the most non technical user in a few seconds. A good workflow software should have a simple user interface and present solutions to problems in easy to understand ways (non technical).
PDF Workflow Software For Drop Shippers, or Printers
The File Splice workflow steps are simple and can be used by anyone looking to manipulate PDF files in a variety of ways. Here's what you can do:
Combine files in a specific order.
Impose PDF files together on a page based upon your custom settings.
Render crop marks per your requirements.
Number pages.
Collate and merge batches of files in the order you need.
Insert custom cover sheets or "break labels" in between files to make sorting and packaging quicker.
Set batch sizes when merging a large number of files.
Those are the basic functions within the software however we have the ability to add automation and some other things if needed.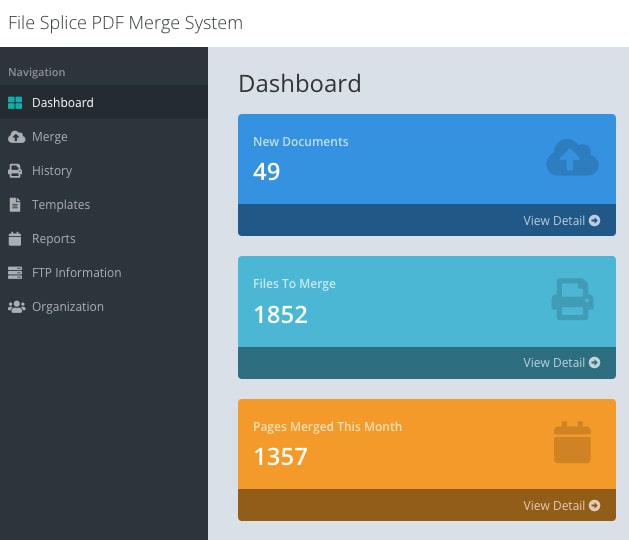 The flexibility and low monthly cost makes File Splice the ideal PDF workflow software for small and medium size businesses. Whether it's a web to print drop shipper pulling files from multiple locations or a traditional printer looking to streamline and lower pre-production costs the flexibility and affordability is there.
Free Setup of PDF Workflow Software
You read that right. Sign up for the service and we'll help you get your account setup, help create your custom templates and walk you through how to get the most out of File Splice for your needs. Simply contact us and we'll be happy to help. If you find that the service isn't right for you cancel anytime and you'll receive no further monthly charges.